Gilda's Club South Jersey Dragon Boat Festival

8:00 AM - 6:00 PM
Mays Landing
This event has already occurred!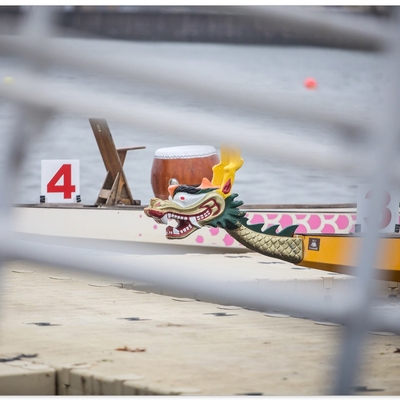 Dragon Boating is easy to learn, extremely safe, and an activity where men and women compete side by side towards the same goal. Regardless how old, young, big or little: once a paddler is in stroke, they are contributing to their team! Add the outdoors, the water, the visual spectacle of dragon boating and you get a perfect activity for corporate team building, or a school outing!
Please join us for our Annual Gilda's Club South Jersey Dragon Boat Festival at Lake Lenape!
History
The origin of Dragon Boat Racing dates back over 2000 years to the Chinese legend of Qu Yuan, a 4th-century statesman, poet, and advisor to the king. Qu Yuan was exiled from the ancient state of Chu after his advice to the king was misinterpreted as an attempt to assume greater political power. For his offense, Qu Yuan was banished to a remote area of Hunan Province in southern China.
The dishonor of being exiled was a heavy burden on Qu Yuan. Under the weight of his sorrow, he threw himself into the torrents of the Milou River – but some local fishermen raced out onto the water to save the drowning Qu Yuan. The fishermen wildly beat their drums and splashed the water with their paddles to prevent the water dragons and fish from eating Qu Yuan.
The modern Dragon Boat Race is based upon a traditional re-enactment of the race to save Qu Yuan. Over the centuries, village fishing boats went out each year in a symbolic search, and began to take part in races that evolved into Dragon Boat Racing's present form.
Who, What, When, Where, Why
Saturday, July 14th from 8:00 AM-6 PM at Lake Lenape Park
The festival proceeds benefit Gilda's Club South Jersey.
Absolutely no experience is necessary to participate.
Excellent Corporate Team Building day or school outing!
Team composition: Recommended 21 participants per team (with 3 substitutes highly recommended), minimum of 8 female paddlers in the boat for every race and the minimum age is 12.
In addition to race day, teams will receive one practice session the week of the Festival
More information about types of teams/boats when you click Register!
Prizes will be awarded for:
Team Spirit (songs, cheers, dances, etc.)
Best Team Costumes
Best Decorated Tent
Top Fundraising Team
Top Fundraising Individual
Medals to the winners of each of the Championship Divisions
| | |
| --- | --- |
| Community Services | Arts & Recreation |
Last Updated: 03/12/18